Data Science
and AI
SolidPro Solutions provide easy access to machine learning associated tools and information, forecasts for business, and helps achieve essential what-if analysis by oneself. The ease of doing business help clients to scrutinize and bring out unidentified factors and analyses its effect on the future of business in simple steps. It draws custom-made views about business trendlines for progressive visualization about predictions and additional outcomes.
Natural Language Processing (NLP)
SolidPro's Natural Language Processing (NLP) Solutions is tailored for individual client origination needs. It addresses the most basic to most complex business challenges. Providing solutions such as
Smart assistants
Search results
Predictive text
Language translation
Digital phone calls
Data analysis
TText analytics and more!!
We assist clients of all domains across business lines in Data Cleansing and Preparation. We also provide deliver clients with an experience of transformational analytics with embedded analytics. Such careful and insightful partnering provide an advantage to customers with SolidPro expertise of Customized AI and NLP. We assist customers explore all possible ways to generate new opportunities for increasing revenue making opportunities by expanding offerings, real-time reporting, and interactive analytic interferences.
Our NLP Capabilities
Sentiment Analysis
Text Generation
Text Summarisation
Machine Translation
Text Classification
Text Extraction
Intent Classification
Recommender System
NLP Use Cases
Documentation
Speech Recognition
Computer-Assisted Coding (CAC)
Chatbots

Organize Appointments
Send reminders to take medicines
Provide Patients with Answers to queries
Delver targeted messages
Provide Users with Personalised offers
Marketers can take great advantage from SolidPro natural language processing and get to learn additional information about respective customers and use such insights to create effective strategies.
Conversational AI
Conversational AI leverages natural language, machine learning, and other technologies to help multiple channels of engagement platforms. This helps clients to understand better and engage with their customers by interacting and providing personalized experiences that are automated across several channel, including mobile, web applications, and supplementary platforms.
SolidPro Conversational AI combines natural language processing (NLP) with traditional software like voice assistants, chatbots, or (IVR)- interactive voice recognition system to benefit and improve customers experience from mere satisfaction to customer delight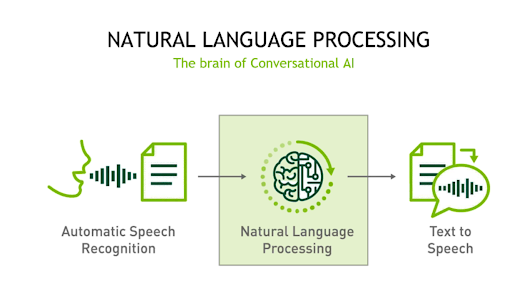 Use Cases:
AI Driven Chatbots
Automate and Elevate Customer Interactions
Recognizing Speech and Text
Understanding Intent
Deciphering Different Languages
Responding in a way that Mimics Human
Industries we Serve:
Banking and Finance
Healthcare
Retail
Telecommunications
Manufacturing
Logistics
Education
Energy and Utilities